PROVIDING HIGH-QUALITY TREX COMPOSITE DECKS IN MICHIGAN
There are several enhancements that you can make on your property to not only boost the value and curb appeal of your home, but also enhance the experience of living in it. Whether you recently bought a new home or are looking to make improvements on one you've had for a while, Supreme Deck Michigan can handle a variety of projects that increase your ability to entertain, host, and enjoy the experience of living in your home.
We're skilled in custom deck design and building, as well as designing and creating unique porches, pergolas, screened-in sun rooms, and more. At Supreme Deck, we go beyond expectations to create a one-of-a-kind installation for your home.
Our technicians in the Rochester Hills, Michigan area are ready to get to work increasing the look and feel of your home with the exterior renovation of your choice. Call (313) 242-1000 to get started. We are the best deck builders in the Metro Detroit, Michigan area.
Recognized by Trex as a top installer for Michigan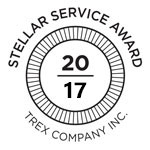 The Stellar Service Award is presented annually to one TrexPRO Platinum from each of Trex's 5 sales regions across the USA. This award is earned by installing enough Trex decks to be within the top 25% of the region and having the highest number of surveys returned while maintaining a customer satisfaction rating of at least 4½ out of 5 stars.
Experienced wood decking and composite deck construction professionals in the Brighton, Michigan area
Being in business for over 29 years and specializing in exterior deck, our decking contractors are able to design that beautiful addition you have being dreaming about for your home or property. We are located in Livonia, Michigan, and provide coverage to Michigan and surrounding communities. We also offer free consultations and estimates to local residents and homeowners.
Visit our showroom in Livonia to see all of the different types of Trex decking. We made a large investment in displaying your new deck so you can see all the choices available. Our Livonia showroom centrality located between Clarkston and Ann Arbor. We are minutes away from the Novi, Northville, and Plymouth areas.


When you're ready to break ground on a renovation or addition on your home, give us a call. We'll come out, take a look at the property, and discuss the details of what enhancements you're looking for. We'll sit down with you and talk back porch ideas, custom deck design, and more to create a unique design that fits the style of your home for any project. We will travel to you and typically go as far as Harrison Township and Macomb Township to the East, Howell to the West, Oxford/Lake Orion to the North, and Canton to the South.
When designs are finalized, we put our expertise in wood decking and construction to work for you, adding an enclosed patio, sun-rooms, deck, pergola, or another custom renovation to your home.
Work with a professional deck builder and designers. We will listen to your needs and design an outdoor experience to what you are looking for.
Here are some of the jobs our expert team can handle for you in Michigan:
Deck construction, Curved Trex decks, Screened porches, Sunrooms, Pergolas, Patio and pool decking, Outdoor kitchens, Other projects
Talk to a designer from Supreme Deck when you're ready to get started on a custom wood decking or other renovation projects.
Call (313) 242-1000 to start your custom design!
Bringing you deck ideas to life in Michigan
The decision to expand your living space to the outdoors is an investment that will not only increase the value of your home, but will provide a haven for relaxation, leisure, and entertainment. It's an important decision, and that's why Supreme Deck provides you with the best possible custom deck design service available, from start to finish.
We have been building quality wood decks, composite decks, and railing systems for more than a decade, and have earned a solid reputation as one of the leading high-quality custom deck builders in the industry.
Deck Design: Materials 101 in Michigan
If you're thinking about building a deck, it's important to become familiar with the material options available. From pressure-treated lumber, PVC, Ipe, cedar, Cumaru, redwood, and low-maintenance composite decking, we've designed and built custom decks using all of the options available, and we understand the advantages and disadvantages of each. The greatest percentage of our workload consists of vinyl, wood, and Trex composite decking. Share your deck ideas with us and we'll work with you – and within your budget – to help determine the best material to suit your custom deck design project.
When selecting the material for your deck project there are many factors to consider, including cost, durability, and overall appearance. Trex Decking products are a great option when you want a natural look and feel without the maintenance of actual wood.
What is Trex composite capped decking?
Trex composite decking is a wood-alternative made from 95% recycled materials – a combination of ground-up wood from sawmills and furniture factories, and polyethylene plastic from commonly discarded products like stretch wrap, milk jugs, and grocery bags. It comes in a wide array of colors and can even be matched to your home's exterior.
Advantages of Trex Composite Decking
Reduced Maintenance
Compared to wood, composite decks are exceptionally low maintenance. All Trex products are mold and mildew resistant and won't rot, crack, or attract termites. It never needs sanding, sealing or staining. An annual scrub with a mild soap is all it'll take to easily restore the surface to its original beauty.
Strength and Durability
Trex decking is stain resistant and splinter free, and it really holds up to harsh weather. It can be easily cut and molded to achieve curves, inlays, and creative details and designs without sacrificing strength or performance. Trex boards can be as long as 20 ft., which means fewer end joints. Stainless steel hidden fasteners eliminate the chance for screws to work their way up through the surface of the board, and specially engineered screws hold miters tight on fascia and other details.
Grades of Trex decking
Trex has 4 difference grades of its composite decking material. Trex Transcend decking is the flagship material and the most durable. Trex Enhance Basics is the box store decking material with minimal colors, but a great value. Trex Select is the entry level decking that is the most prone to scratch. Trex Enhance Naturals is a value line decking material with popular color choices.
Minimal Fading
While wood inevitably turns gray over time, the early generation composite deck boards experience only a slight fade after 12-16 weeks, and the newest, high-performance composites fight weather and age with a protective polymer outer shell that eliminates fading altogether. Trex also offers a 25 year Stain & Fade Warranty that will ensure the colors will stay as vibrant and beautiful as the day they were installed.
Environmentally Friendly
No trees are cut down in the creation of Trex products. Through the manufacturing process, Trex keeps more than 200,000 tons of plastic and hardwood scraps out of American landfills each year. Every 10 square ft. of Trex decking contains nearly 3,000 recycled plastic shopping bags and 1,100-gallon milk jugs.
Disadvantages of Trex Composite Decking
High Initial Cost
While the initial cost of a Trex composite deck is usually around 30-50% higher than a wood deck, the annual cost of maintaining a wood deck (sanding, stripping and staining) generally makes up the difference in 9-11 years. Trex Enhance Basics is now the same price as cedar decking. The railing is what raises the cost of a Trex deck vs cedar.
Scratching and Staining
Composite decking is strong, but it's not completely indestructible. Scratches could occur from moving furniture or excited pets, and grease from outdoor grilling can stain if it's not cleaned up quickly.
Weight
The planks in composite decking are heavier than wood, which means it's more prone to sagging. Using more joists is a common practice to prevent this from happening.
Hot Underfoot
Some composite decking, especially darker colors, can get very hot in direct sunlight. Lighter colored and deeper grooved boards are generally more barefoot friendly.
Is a Trex Deck the Right Choice for You in Milford or South Lyon, Michigan?
No matter what material you decide to use, Supreme Deck can help turn your outdoor living space into a great asset for your home. Contact us today!
Visit Our Sister Site DeckBuildersMichgan.com