Oak Park, Michigan TrexPro Platinum Deck Builders & Contractors.
    Supreme Deck Oak Park, Michigan is a TrexPro Platinum Deck Builder that offers services for and near Oak Park, Michigan. We have been servicing Oak Park, Michigan since 1991 . There are several enhancements that you can make on your property to not only boost the value and curb appeal of your home, but also enhance the experience of living in it. Whether you recently bought a new home or are looking to make improvements on one you've had for a while, Supreme Deck Oak Park, Michigan can handle a variety of projects that increase your ability to entertain, host, and enjoy the experience of living in your home. We have the ability to maintain your wood deck, repair your wood or composite deck, or build you a new Trex Transcend deck. We are skilled in custom deck design and building, curved decks, curved inlays, as well as designing and creating unique porches, pergolas, screened-in sun-rooms, and more. At Supreme Deck, we go beyond expectations to create a one-of-a-kind installation for your home. Our technicians in the Oak Park, Michigan area are ready to get to work increasing the look and feel of your home with the exterior renovation of your choice. email Supremedeck@msn.com to get started.
Recognized by Trex as a top installer for Oak Park, Michigan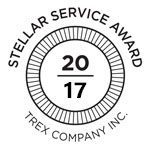 Click here or logo for Trex reviews
Supreme Deck was presented with the Stellar Service Award. It is presented annually to one TrexPRO Platinum from each of Trex's 5 sales regions across the USA. This award is earned by installing enough Trex decks to be within the top 25% of the region and having the highest number of surveys returned while maintaining a customer satisfaction rating of at least 4½ out of 5 stars. Experienced wood decking and composite deck construction professionals in the Oak Park, Michigan area Being in business for over 29 years and specializing in exterior decks, our decking contractors are able to design that beautiful addition you have being dreaming about for your home or property. We are located in Livonia, Michigan, and provide coverage to Oak Park, Michigan and surrounding communities. We also offer free consultations and estimates to local residents and homeowners. Visit our showroom in Livonia at 29500 Six Mile, Livonia, MI 48152 to see all of the different types of Trex decking and railings. Trex will be featuring  their new Enhance Basics and Naturals product lines. We will have them on display for you.  We made a large investment in displaying your new deck so you can see all the choices available for your new backyard deck in Oak Park, Michigan.

 When you're ready to break ground on a renovation or addition on your home, give us a call. We'll come out, take a look at the property, and discuss the details of what enhancements you're looking for. We'll sit down with you and talk back porch ideas, custom deck design, and more to create a unique design that fits the style of your home for any project.
     When designs are finalized, we put our expertise in wood decking and construction to work for you, adding an enclosed patio, sun-room, Trex deck, pergola, or another custom renovation to your home. Work with a professional deck builder and designer
See what our expert team can handle for you in Oak Park, Michigan
Custom Trex deck galleries for Oak Park
Deck construction, Curved Trex decks, Screened porches, Sunrooms, Pergolas, Patio and pool decking, and Outdoor Kitchens Other projects.
Talk to a designer from Supreme Deck when you're ready to get started on a custom wood decking or other renovation projects. Call (313) 242-1000 to start your custom design!
Bringing you deck ideas to life in Oak Park, Michigan
v
The decision to expand your living space to the outdoors is an investment that will not only increase the value of your
home,
but will provide a haven for relaxation, leisure, and entertainment. It's an important decision, and that's why Supreme Deck provides you with the best possible custom deck design service available, from start to finish.
We have been building quality wood decks, composite decks, and railing systems for more than a decade, and have earned a solid reputation as one of the leading high-quality custom deck builders in the industry.
Superior resistance synthetic decking in  Oak Park, Michigan
Synthetic decks aren't just infinitely beautiful. They offer superior weather resistance against rain, snow, bugs and fungi that is common to the Oak Park, Michigan climate! Plus synthetic decks and vinyl decks don't rot or splinter the way wood decking often can.
We spend countless hours researching, testing, and working with manufacturer reps and product developers to stay in-tune with what's available and how the different choices stack up to one another. We feel that we excel beyond all other companies when it comes to project planning and consultation, specifically in the product choice department. Whether it's appearance, performance, or value, we'll help you find the perfect combination of decking, railing, lighting, and other products based on your needs and our expertise. We build our synthetic decks and vinyl decks using synthetic decking products from several manufacturers who create a variety of products.
Deck Design: Materials 101 in Oak Park, Michigan
If you're thinking about building a deck, it's important to become familiar with the material options available. From pressure-treated lumber, PVC, Ipe, cedar, Cumaru, redwood, and low-maintenance composite decking, we've designed and built custom decks using all of the options available, and we understand the advantages and disadvantages of each. The greatest percentage of our workload consists of vinyl, wood, and Trex composite decking. Share your deck ideas with us and we'll work with you - and within your budget - to help determine the best material to suit your custom deck design project.
When selecting the material for your deck project there are many factors to consider, including cost, durability, and overall appearance. Trex Decking products are a great option when you want a natural look and feel without the maintenance of actual wood.
What is Trex composite decking?
Trex composite decking is a wood-alternative made from 95% recycled materials - a combination of ground-up wood from sawmills and furniture factories, and polyethylene plastic from commonly discarded products like stretch wrap, milk jugs and grocery bags. It comes in a wide array of colors and can even be matched to your home's exterior.
Advantages of Trex Composite Decking in Oak Park, Michigan
Trex decking is know for Reduced Maintenance. Unlike wood, Trex does not need to be maintained on a yearly basis. This is what homeowners are attracted to with their outdoor deck.  All Trex products are mold and mildew resistant and won't rot, crack, or attract termites. It never needs sanding, sealing or staining. An annual scrub with a mild soap is all it'll take to easily restore the surface to its original beauty.
Strength and Durability of Trex decking in Oak Park, Michigan
Trex decking is stain resistant and splinter free, and it really holds up to harsh weather. It can be easily cut and molded to achieve curves, inlays, and creative details and designs without sacrificing strength or performance. Trex boards can be as long as 20 ft., which means fewer end joints. Stainless steel hidden fasteners eliminate the chance for screws to work their way up through the surface of the board, and specially engineered screws hold miters tight on fascia and other details.
Lines of Trex decking in Oak Park, Michigan
Trex has 3 difference grades of its composite decking material. Trex Transcend decking is the flagship material and the most durable. Trex Enhance is the box store decking material with minimal colors, but a great value.  New in 2019 Trex Enhance will have tropical colors at a great price to select from. Trex Select is the entry level decking that is the most prone to scratching.
Minimal Fading decks by Oak Park, Michigan
While wood inevitably turns gray over time, the early generation composite deck boards experience only a slight fade after 12-16 weeks, and the newest, high-performance composites fight weather and age with a protective polymer outer shell that eliminates fading altogether. Trex also offers a 25 year Stain & Fade Warranty that will ensure the colors will stay as vibrant and beautiful as the day they were installed.
Environmentally Friendly
No trees are cut down in the creation of Trex products. Through the manufacturing process, Trex keeps more than 200,000 tons of plastic and hardwood scraps out of American landfills each year. Every 10 square ft. of Trex decking contains nearly 3,000 recycled plastic shopping bags and 1,100-gallon milk jugs.
Disadvantages of Trex Composite Decking in Oak Park, Michigan
High Initial Cost While the initial cost of a Trex composite deck is usually around 30-50% higher than a wood deck, the annual cost of maintaining a wood deck (sanding, stripping and staining) generally makes up the difference in 9-11 years. Scratching and Staining Composite decking is strong, but it's not completely indestructible. Scratches could occur from moving furniture or excited pets, and grease from outdoor grilling can stain if it's not cleaned up quickly. Weight The planks in composite decking are heavier than wood, which means it's more prone to sagging. Using more joists is a common practice to prevent this from happening. Hot Underfoot Some composite decking, especially darker colors, can get very hot in direct sunlight. Lighter colored and deeper grooved boards are generally more barefoot friendly. Is a Trex Deck the Right Choice for You in Oak Park, Michigan? No matter what material you decide to use, Supreme Deck can help turn your outdoor living space into a great asset for your home. Contact us today!
If your looking for a great deck for less in Oak Park, Michigan give us a call. We are Platinum installers in the Oak Park, Michigan area. We want to prove that we are the right contractor for the job. We have hundreds of references for you to call or visit. Supreme Deck is a top Angie's List contractor for 2018.
TimberTech vs Trex Oak Park, Michigan
Our customers often ask about the difference between TimberTech vs Trex. Here's some basic info to help you decide whether a Trex composite deck or TimberTech composite deck is right for your outdoor living space.
A Brief History of Trex
Trex invented the composite decking board in 1996 and is widely known as the pioneer in the wood-alternative industry. They began by manufacturing a single color decking board, which they patented in 1998. The inventors took plastic that would otherwise have gone to landfills and used it to make a composite decking board that could withstand the elements much longer than wood decks. Since then, that basic Trex deck board has undergone many upgrades and as the technology improved, so did the product offerings. They now offer a full line of products from composite decking and railings to lighting and outdoor furniture.
A Brief History of Timbertech
TimberTech's original launch was also early in the industry's development. They entered the composite decking market in 1997, also with only one decking board in one color. But growth and innovation have allowed Timbertech to become a leader in composite railing systems. Early in the industry's development, white PVC railing was the only color option available. TimberTech's award-winning rail line was the first to include black as an option and now includes a wide range of browns and grays. TimberTech is now part of CPG building products which also owns Azek.
TimberTech vs Trex – Materials and Capping
Understanding the difference between TimberTech vs Trex requires a little background into how composite decking is manufactured. Both companies use a mix of recycled wood fibers and plastics to manufacture the core of their decking boards. It's a combination of sawdust and ground-up wood from sawmills and furniture factories, along with recycled plastics from milk jugs and grocery bags. The main difference in the two companies is in how the boards are "capped." Capped boards are coated with a durable plastic protective shell that resists mold, staining, and fading. Capping significantly prolongs the life of composite boards, but there are two different approaches about the best way to cap a composite board.

As you can see from the image above, Trex caps only the top of the boards. Their thought process is that moisture will inevitably get in, so Trex leaves the bottom wide open for the board to breathe and expel any moisture.
TimberTech boards are fully capped - the PVC coating wraps completely around each board with the intention of sealing out all moisture completely.
I often compare this to a window installation. One approach is to try to seal out all the moisture by caulking everything. The other approach is to assume that moisture will inevitably find a way in and instead create weep holes for the moisture to find a way out. TimberTech has taken the "seal out" approach and Trex has taken the "weep hole" approach.
TimberTech vs Trex - Durability
Another thing to consider is the durability of the cap since that's portion of the board that's exposed to the blazing sun, frigid winter temperatures, falling leaves and pollen, staining, and potential scratching from moving furniture or excited pets. All materials fade over time, and you can expect minor fading from both Trex and TimberTech products within the first 3-4 months. After that, the color will remain consistent throughout the life of the deck.
Scratching is a different story, and you can test this very easily at home. Take a sample piece of each board and run your keys on top of the boards. In our experience, Trex Transcend is the most durable product on the market. It resists scratching far better than any of the other options. This is not a big concern for many of our clients, but for others, it's a deal breaker. If a scratch in your hardwood flooring drives you crazy, chances are that scratches in your new deck will also drive you crazy so make sure you consider this when choosing your capped wood composite.
TimberTech vs Trex - Pricing
Composite decking is more expensive than traditional wood, but over time, it will definitely save you money on maintenance and repair. Both Trex and TimberTech offer several tiers of composite decking products, from least to most expensive.
It's difficult to get too specific about pricing because there are so many variables involved in deck building, but a realistic price range for our area is $12,000-$18,000 for an average 380 sq ft composite deck project. On the lower end, the TimberTech Terrain Collection™ is comparable to TrexSelect®, though TimberTech tends to be a bit more expensive.
In a high-end comparison of the Legacy Collection by TimberTech vs Trex Transcend, TimberTech offers the most realistic-looking boards, while Trex Transcend is widely known as the most durable composite on the market.
Keep in mind that the final price will ultimately depend on your unique deck space, the size of your deck, and the add-ons you choose, from fasteners and finishing to railings and lighting. Check out our Deck Design Guide to learn more about planning your custom deck project.
TimberTech vs Trex - Warranty
A 25-year fade and stain warranty covers all capped composite decking offered through Trex vs Timbertech's 30-year warranty. Both offer limited warranties that cover material defects, splinters and rot on all of their capped decking as well. Though the maintenance for composite decking is minimal, regularly sweeping and cleaning with a mild soap and water is expected and is key to preventing mold and mildew. Mold and mildew growth is not covered by their product warranties if it's not properly cleaned.
TimberTech vs Trex - Which is Better for You?
Composite decking has come a long way since its humble beginnings in the 90s, and TimberTech and Trex have led the way through growth and innovation. If you've chosen low maintenance, weather and scratch-resistant composite for your decking project, you really can't go wrong with either brand but it is definitely worth a closer examination of the specific products offered.
At Supreme Deck, we are proud to partner with Trex as a Certified TrexPro Platinum Installer, so we're able to offer the full range of products from Trex decks including railings, lighting, pergolas, and more. Our deck experts have also been working with TimberTech for years and are skilled installers of their 4-sided capped composite products.
It's a tough decision, but we're here to help! We'd be happy to sit down with you to discuss the products in more detail, and we can provide samples to help you make the decision that's best for your decking project. Contact us today to discuss your next deck project or to get an estimate.
Supreme Deck is a leading construction company for Oak Park, Michigan
Great Decks for Less in Oak Park, Michigan
Best Deck Builders near Oak Park, Michigan
Michigan's Best Deck Builders for Oak Park, Michigan
Top Angie's List contractors in Oak Park, Michigan
Deck Repair Companies near Oak Park, Michigan
Trex Deck builders around Oak Park, Michigan
Deck Cleaners in Oak Park, Michigan
Composite decking in Oak Park, Michigan
Supreme Deck Reviews Oak Park, Michigan
Trex Contractors in Oak Park, Michigan
If you looking for a repeatable deck builder or  deck repair contractor near Oak Park, Michigan feel free to contact us.  Also Visit Our Main Website
Deckbuildersmichigan.com
Our portfolio for this is currently under construction. Other portfolio sections for our work which we've done near Oak Park, Michigan include
Huntington Woods, Michigan Trexpro Platinum Deck Builders
,
Southfield, Michigan Trexpro Platinum Deck Builders
,
Pleasant Ridge, Michigan Trexpro Platinum Deck Builders
,
Ferndale, Michigan Trexpro Platinum Deck Builders
,
Royal Oak, Michigan Trexpro Platinum Deck Builders
,
Berkley, Michigan Trexpro Platinum Deck Builders
,
Lathrup Village, Michigan Trexpro Platinum Deck Builders
,
Madison Heights, Michigan Trexpro Platinum Deck Builders
,
Beverly Hills, Michigan Trexpro Platinum Deck Builders
,
Clawson, Michigan Trexpro Platinum Deck Builders
,
Birmingham, Michigan Trexpro Platinum Deck Builders
,
Franklin, Michigan Trexpro Platinum Deck Builders
,
Warren, Michigan Trexpro Platinum Deck Builders
,
Bloomfield Hills, Michigan Trexpro Platinum Deck Builders
,
Dearborn, Michigan Trexpro Platinum Deck Builders
,
Dearborn Heights, Michigan Trexpro Platinum Deck Builders
,
Farmington, Michigan Trexpro Platinum Deck Builders
,
Farmington Hills, Michigan Trexpro Platinum Deck Builders
,
Troy, Michigan Trexpro Platinum Deck Builders
, and
Livonia, Michigan Trexpro Platinum Deck Builders
. Even though they did not get their own portfolio section, we do also serve the nearby cities of Bingham Farms, Clarkston, and Ortonville.